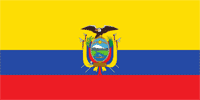 This past June I travelled to Ecuador, an exciting and exotic place I had never been before. Most of my time there was spent in the area of Otavalo where I relaxed, got to know many people, their culture and explored the countryside.
Otavalo is an indigenous town cradled between two volcanoes in the Andean mountains. The town itself and the surrounding communities make up an area known as the Awakening Valley, which since pre-Inca times has been an Andean crossroads of culture and commerce. Since ancient times, traders from the jungle would journey there to trade goods with others from the mountains. Nowadays the same thing is exaggerated with international and local visitors bargaining for textiles, live animals and fresh foods, all the while engaging in the charming, graceful culture of the indigenous Otavaleños. It is easy to see why it is one of the biggest markets in South America.
The indigenous people of Otavalo are a warm, friendly people. I was able to make friends quickly and was lucky to experience Inti Raymi (Festival of the Sun) Incan religious celebration. This ancient festival coincides with the summer solstice and endures weeks of colourful ceremonies, communal offerings, animal sacrifices, feasts and traditional dancing. I was fortunate to experience this celebration with indigenous people from the community who explained the symbols and traditions of the ceremony.
For some time the indigenous Otavalos have been recognized for their craftsmanship and weaving. Weaving families carry on traditional weaving techniques dating back 4,000 years, while also developing new, modern and trendy styles. In most of these households the precise work begins at sunrise, when they carry on their tradition of tapestry, a rich cultural art handed down from generations and beautifully embodied in their dazzling and intricate designs.
In the Otavalo region I found a wide array of sweaters, carvings and ornaments. I purchased most of this from one large indigenous family that has been producing textiles for generations. I found this area of Ecuador exciting and inviting and would encourage anyone to visit, learn and explore it.
The Otavalo region of Ecuador is making an interesting addition to the Bazaar, we welcome you to experience what these industrious people have created.