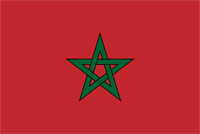 This past spring, I spent six weeks in Morocco. I lived with a wonderful Berber family in Marrakech, worked the days as an intern in a children's emergency shelter, and the spent most evenings sourcing product from local souks (market stalls).
The Moroccan culture is unlike anything I've experienced. It is a feast for the senses. The food is exquisite, the smells and sights are endless and the people diverse. The historic cities are centered around their 'medinas'- a walled centretown which is next to impossible to navigate by yourself.
The highlight of my trip was a weekend in the Sahara desert, camel trekking, sleeping under the stars and listening for the friendly snakes whisking by. Through the day, we set out on the camels and waddled through the sand dunes, experiencing a million shades of brown.
My work experience was interesting. It took awhile to get accustomed to the cadence of the organization but soon I was tutoring the children in English and French, translating documents and kick starting a healthy eating program. It was challenging working with children from such troubled backgrounds but it is rewarding to see them cooperate with, and learn from the other children at the shelter.
Come see the eclectic product coming from the Marrakech souks this coming fall at the Third World Bazaar