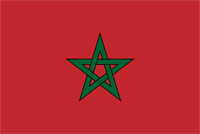 Peggy and I had visited Morocco as tourists 20 years ago but this was our first time as buyers. Traveling as business people is certainly an interesting way to experience the Berber-Arabic culture of the Atlas Mountains.
We traveled by train from Casablanca to the ancient capitals of Fes and Marrakech, with side excursions by horse, bus and taxi to the historic coastal port of Essaouira and the Middle Atlas Kilim production centre of Azrou.
The old Medinas of these towns have a Biblical feel. Clay and stone buildings crowd the streets and alleys, causing them to twist and turn in wonderful ways. Horses and donkeys seem to be everywhere, and all the people seem to know one another. After spending just two days in one place they come to know us as well, and are quick to help. Never did we feel threatened or nervous, and were always coming across interesting sights and smells.
Moroccans have been traders and salesmen forever. Normally when we buy in South East Asia there is very little haggling, but in Morocco haggling is the national sport; if you don't they cannot respect you! We had quite an interesting time negotiating our way through the country. Morocco was one of our most challenging and interesting countries. The people, food and amenities were wonderful, while the buying and negotiations were much more complex than normal. After all the work we are very happy with what we selected.
Where else but Morocco can you find gorgeous Berber Kilims (flat carpets), soft leather products, Berber ceramics, Arabic furniture, bone mirrors, extra-long Saharan scarves and brass/gold plates? This year they can also be found in Manotick Station, at the Third World Bazaar!