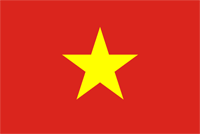 This year I was given the incredible opportunity to venture to the other side of the world, to Vietnam, with my good friends, the Bakkers. Anneka and I flew alone from Ottawa to Ho-Chi Minh City where we were met by Peggy and Dick. Although I had never traveled that far without a parent, I felt safe because I knew I was traveling with an expert.
The first day in Ho Chi Minh City, we treated ourselves to a body massage, Vietnamese style: hot rocks were applied, our backs were walked on, and we found ourselves being thrust into the air. We also visited the Chu-Chi Tunnels, a historic landmark of the Vietnamese war, which was a really fascinating experience. We learned about the significance of the tunnels as we explored them firsthand. What I also learned was that Peggy, a woman usually filled with confidence, is a very different person underground!
We then headed to the Sapa Mountains in the Northern region of Vietnam. To get there, we traveled on an overnight train which was surprisingly very comfortable. Sapa was a real highlight for me. The gorgeous mountains and terraced rice fields made the hikes something that you never wanted to end. The people in Sapa were also quite memorable. Let?s just say I learned to never promise or even say something that could be interpreted as a promise to a little girl with a cute smile on her face, a jewelry box in hand and anxious to make a sale. I will never forget the sounds of villagers singing and children playing in this stunning mountainous setting. I plan to make a return trip to this special place.
Hoi An, an ancient coastal city, was also an amazing stop along our travels. We explored Hoi An by bicycle which is how most people navigated its congested roads. It is a city known for its alleys of tailor shops. We all had fun, moving from shop to shop, getting measured for various outfits. In fact, I wore my Vietnamese dress for my high school prom in June. I was confident that my dress would not be seen on another girl that night and I was right!
It was very interesting meeting a lot of other travelers on our trip. They were eager to get to know Anneka and I; thinking that we were well beyond our Grade 11 years. Their interest in us seemed to fade, however, when they discovered we were not yet graduates from university, let alone high school! Meeting these travelers definitely made me excited about opportunities for travel in the future.
Overall, this first trip to Asia was incredible. Having been born in Hong Kong, it was exciting to have had my first taste of Asian culture. Vietnam was a great destination. The people in Vietnam were welcoming, eager to share and very friendly. They were anxious for us to learn about their country and wanted to express their gratitude to us for deciding to travel there. It seemed important to them that we wouldn?t forget them. They certainly have my word on that!
The experience with the Bakker family was exceptional. Dick was always there to explain the history of all we saw and experienced. Peggy was always there with her smile, her contagious laugh and the very critical ?Refreshing Times? (Vietnamese version of cleaning wipes). My traveling sister, Anneka, was, of course, the great friend she always is. Her smile and positive attitude always makes for a good time.
Thanks for inviting me along to be part of this great adventure!