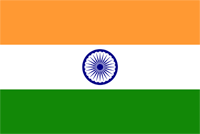 In February of 2010 we visited the incredible country of India. Eighteen days does not give the country justice, but it did give us a good feel for Delhi and the province of Rajastan. The product variety is immense, the workmanship amazing and the quality strong. In Delhi we were able to source some wonderful glass products, silk scarves and ceramic products. Jodphur is a fantastic source of furniture, and those hand-painted Rajastani cabinets that so many of you have asked us for. Jaiselmeer, the sandcastle city in the middle of the Dhar Desert was a great source of linens, wool pashminas, musical instruments and jeweled tapestries. In Jaipur we were able to find more linens, ceramics and fantastic camel hair carpets. We are confident you will be impressed with our Indian purchases.
Trains are the way to experience India. While on one of our rides Peggy and Dick wrote the two short observations below.
India, the destination that has drawn explorers, traders, mystics and empires for centuries!
But it is not to be seen, rather, it is to be experienced, in one view – splendor, squalor, smell, taste; while overhead a supersonic fighter jet.
India, home of friendly people, efficient but dirty trains, fantastic architecture, crumbling neighbourhoods, confident cows!
India, the Experience!
Dick
Constant contrasts,
Senses are alive;
Land needing water,
Animals needing a home;
Eye contact and wonderment,
Both sides trying to imagine the other;
Gracious, Kindness and Enthusiasm
That is what I felt in . Incredible India.
Peggy