In 2012, the Bazaar will be actively contributing to these excellent organizations, and we hope our patrons will help as well.
Get your coffee at the Bazaar and help build a home.
Habitat for Humanity
Bring some non-perishable food items and support the local work of:
Shepherds of Good Hope
Purchase a pumpkin or apple cider and support the good international work of:
Médecins Sans Frontières / Doctors without Borders (MSF)


Roots and Shoots Farm
Roots and Shoots, the organic gardeners, have expanded their production significantly. They are selling their vegetables at several market locations and to a larger number of Community Supported Agriculture patrons. Robin Turner, and his team, can be found this summer and fall at a number of Farmer's Markets (Lansdowne on Sunday's, Kanata on Saturday's, and Thursday's 4-8PM at Bakker's General Store and Mountain Equipment Coop in Westboro. Tasty, nutritious vegetables from the fields of the Third World Bazaar. Click on their logo below to visit them online.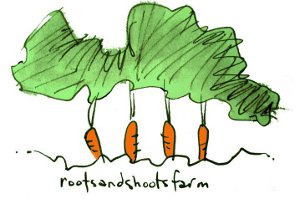 6110 Mitch Owens Drive, Manotick Station, Ontario K4M 1B2 - Click here for Directions