In 2012, the Bazaar will be actively contributing to these excellent organizations, and we hope our patrons will help as well.
Get your coffee at the Bazaar and help build a home.
Habitat for Humanity
Bring some non-perishable food items and support the local work of:
Shepherds of Good Hope
Purchase a pumpkin or apple cider and support the good international work of:
Médecins Sans Frontières / Doctors without Borders (MSF)

BullFrog Power (Clean Reliable Electricity)
The Province of Ontario is facing a very serious electricity challenge over the next 20+ years. Our coal plants are dirty and expensive and our nuclear facilities are nearing the end of their operational life. Over the next decade much of the capacity will have to be replaced. But with what? More dirty coal? Government subsidized, and dangerous nuclear? Or a wide range of renewable sources? Everyone is concerned with costs. With renewables, the upfront costs are higher, but the operational costs are lower. As we all know there is nothing free, only the illusion of free.
The Third World Bazaar through BullFrog Power, utilizes electricity that is produced exclusively from wind and low-impact water power generators. The small premium we pay helps ensure that new renewable sources of power can be brought on stream in Ontario, and hopefully slow the growth of dangerous, expensive and subsidized nuclear energy.
If you would like to know more about what this forward thinking company is doing please click on the logo to visit their web site.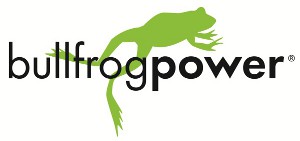 6110 Mitch Owens Drive, Manotick Station, Ontario K4M 1B2 - Click here for Directions